Disaster In Japan – Live Blog
March 11, 2011 in Live-Blogging In The Name Of
What I'm seeing and hearing coming out of Japan is Michael Bay-esque in proportions. Indeed – imagine if Michael Bay and Roland Emmerich got together and decided to destroy part of Japan – that's what I'm seeing. The quake was 8.9 in magnitude, and was the most powerful to ever hit. Currently – 44 dead. Everybody's trying to get home and the seismic wave is still traveling The Pacific as I type.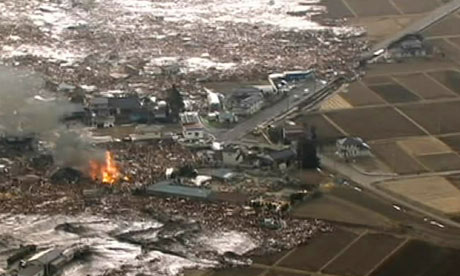 As it moves across the land, gas pipes begin to fracture.
Those are cars and people carriers being tossed about like toys.
Wreckage piles up underneath a bridge.
A boat is caught in a whirlpool.
We will continue to closely monitor tsunamis around Japan and the Pacific going forward and we are asking all our citizens in the affected region to listen to their state and local officials.






Tweets are coming in about the tsunami hitting Hawaii.
Video feed from The Washington Post.