The Biggest Halloween Scare I Have Ever Had
November 1, 2009 in Drugs, Personal, Scary!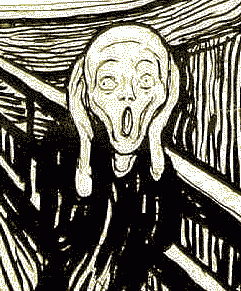 I got sick.  Really fucking sick.  It was scary at times–mostly due to the fact that I had a fever and some other symptoms that could have been indicative of The Swine Flu (or The H1N1 Virus).  And while it turned out not to be any kind of flu, it still sucked.  I went to see my Doctor on Friday to get checked out, as I had not been well for a week prior.  As far as she could tell by examining me, I had no illnesses that would cause the fever I had.  I also could not keep anything down, nor could I sleep.  I was a hot mess.  More of a mess than I had been in a long, long time.
My good Doctor wanted to run tests to see if she could find the origin of my fever.  As I sat there in her examining room and she checked off on a sheet of paper what tests she wanted to run, my heart felt like it was going to explode when she said "we should check for HIV."  Fuck.
The last time I had been tested for HIV was about 5 years ago, and I have barely put myself at any kind of risk since then. But "barely" is not good enough.  Although I have a deep history with drugs, I have never used drugs intravenously.  I preferred snorting my shit, or taking them in the form of a pill.  I have had sex with exactly 2 men in those 5 years (yeah I know, I know) and I used condoms with both of them.  The sticking point for my Dr was that I had shared a "snorting device" (usually a one dollar bill) with others who may have had HIV or Hepatitis (which she also tested for).  It is not common for HIV to be transmitted in that way, but it can happen.
So I headed over to the Hospital and got more blood sucked out of my arm than I have ever had taken in my entire life.  I got chest X-rays to make sure that my heart was operating properly (I had a small heart attack in my early twenties in the midst of a week long meth/coke binge).  Then I was sent home for the weekend to ruminate and decide that my life as I knew it was over, because I had already convinced myself that I was HIV positive.  The minute the words "we should test for HIV" came out of my Dr's mouth, I was convinced.
Saturday rolled around and I still felt like hell.  All I could do was think about how much of a waste it would be if I died or was diagnosed with a chronic/fatal disease at this point in my life.  I am still just starting to get my shit together.  I am still learning about what it means to be in the world.  I am making new friends.  I am re-learning what I am passionate about.  I am re-learning what I am about.  The thought of dying or being chronically sick was very depressing and anxiety producing.  I was probably driving myself sicker than I was with my anxiety around these test results, and because I had myself convinced that the results were not going to be good.  But on Sunday, there was no denying that I needed to be checked out again.  I was severely dehydrated.  I couldn't even keep my meds down.  My fever had spiked to almost 102.  I had searing pains in my stomach area.  Like someone was stabbing me repeatedly in the tummy.  My parents decided to take me to the ER.
Luckily at the ER, I had no issues with being treated with anything but respect.  Probably cause I did have a fever, and I looked like shit–or maybe I just lucked out with a good Dr.  The Dr actually offered me pain meds, but I declined them – I knew that they would not work  cause even though my Suboxone was making me puke, I still had most of it in my system.  I can't tell you how empowering it felt to say "not unless it becomes completely necessary" to pain medication, I think that is a first for me.  So I got a couple bags of fluid, some Zofran (for nausea) and some Ativan (to relax me).  The Dr also ordered a CT scan of my abdomen to make sure that I didn't have a blockage or something.  After I was hydrated , and the CT scan results came back, the ER Dr came in and told me that my CT was negative and told me that he had looked over my blood work from Friday, and that I was NOT HIV positive.  I didn't have any form of Hepatitis either.  In fact, all of my blood work and tests showed that I was perfectly healthy aside from a very low Vitamin D level (probably because I had not been able to eat well for weeks).  He said that I probably had a bug of some sort that was causing my fever, and that I had become very dehydrated from not being able to eat or drink for almost a week.
I was released from the ER 6 hours later with a new lease on life.  With a new attitude about taking care of myself in every way.  Knowing that it is time for me take my recovery to the next level–where I eat right, exercise more, always take my meds as prescribed, (ie: not over-medicate) care about myself more, remove toxic relationships from my life, value myself and my body above all else, etc.  In other words, life was suddenly put into perspective for me.  I hope that from now on whenever I am tempted to take a path that is not following those guidelines that I will remember this last week and take the path that heads in the other direction.  I don't ever want to have live last week again.  It was hell, both physically and emotionally.  But I survived it, and the final lesson I should take from it is that I lived through it. My strength surprises me over and over these days.
Even when I was convinced that I was dying, I lived through it.