WELCOME TO THE TARANTULA CLUB
February 11, 2009 in The Tarantula Club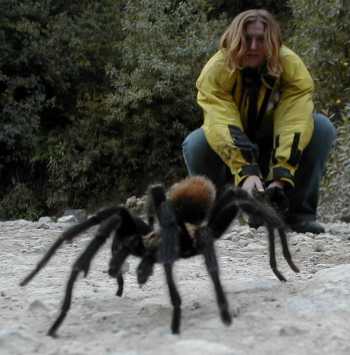 So I still, for whatever reason, find myself daydreaming about Fiscal Crisis New York.  I know, right? Weird. Maybe I keep hearing a song about Fiscal Crisis New York at the Rite-Aid?  So it's all stuck in my head and shit?
Maybe it's because yesterday evening I was on the 6 train, it was a fucking sardine can, a regular frottage festival, and it was held at the 28th Street station for twenty minutes.  And they didn't open the doors.  And we're all, "God damn it!"  
Then a couple of cops came through the car, asking all us jam packed folks to move to the sides. Those cops?  They had their guns drawn.  I ain't making this up.  They had their guns in hand.

And I was all, "Yay!  This is so Fiscal Crisis New York!"  It was awesome.  Screw you, total absence of three card monte guys!  Up yours, Disneyfication of Times Square!  (Although they did put a Red Lobster in over there for the seafood lover in me, for which I am truly thankful.)
Anyway, it brings to mind an exceptional piece of Fiscal Crisis New York entertainment, The Taking of Pelham One Two Three (1974).  Look, if you ain't seen this thing, put it in your fucking queue and smoke it.  There's a god damned remake coming out this summer.  The god damned remake stars Denzel Washington and John Travolta.  The god damned remake is completely unnecessary, because they made it right the first time.  Do not permit the god damned remake to be your first experience with The Taking of Pelham One Two Three.
Because, seen correctly, instead of Denzel Washington, you get Walter Matthau.  And instead of John Travolta, you get Robert Shaw.  No contest.  Not a day goes by that I don't wish Walter Matthau was still alive.  Why don't they mandate a chip in television sets that makes Matthau happen all the time? Matthau!  Matthau!  Matthau!  Three times Matthau!
Matthau is Lieutenant Garber of the New York City Subway Transit Police, worn out, acerbic, just getting through the day.  You know, all Matthau about everything.  It's starting out pretty normal at command center there, with the all-in-a-day's-work assortment of stabbings and shootings and whatnot.  Then heavily armed men using code names like "Mr. Blue" and "Mr. Green" (yeah, this is from whence that came) smoothly hijack a subway car full of Fiscal Crisis New York stereotypes (including Pimpin' Dude, Elderly Jew, and Hysterical Hispanic Woman), then cut the power to the entire system.
Their demand is one million dollars (ha, I know) in an hour or they start shooting hostages. Most of the movie is anchored by Matthau on a dispatcher's microphone with boss hijacker Blue (Shaw) while municipal chaos swirls aboveground–regular cops itching to commando their way in, the ineffectual and influenza-stricken mayor bickering with advisors about the money, freaks in the street all underfoot–and the hostages interacting with their captors, including sweaty Green (Martin Balsam) and jittery Grey (Hector Elizondo).  
Everyone wonders just how these guys think they're gonna make an escape, boxed in as they are, and that's part of the fun.  There's also a great deal of sly humor.  When urged to put in a public appearance at the scene, the mayor whines, "Then what'll happen?  What always happens–I'll get booed!"  Later, as the cops stand ready on the street, the crowd erupts into a chorus of jeers. The sergeant just looks up and says, "Ahh, jeez–the mayor's here!"  It's the kind of stuff Bill Murray tried to pull off with the somewhat diverting Quick Change, except here it works throughout.
And for everyone who needs the force-fed HIGH IMPACT VELOCITY of today's BEST ACTION THRILLER movies that make you want to WET YOUR PANTS, don't worry, the subway car
 will hurtle uncontrollably down the tracks for awhile.  For the rest of us, there's NON-STOP WALTER MATTHAU, always ROLLING HIS EYES and being VERY GRUFF AND EXASPERATED.
No flies on Matthau.  Also, there's a kick ass tuba driven soundtrack by David Shire.  Hipster marching bands take note:  If you aren't performing "End Title from The Taking of Pelham One Two Three" you suck out loud.
Where was I?  Oh, right, tarantulas.  Right.  I was talking about tarantulas.  Well, as everybody knows, kittens are the tarantulas of the mammalian world, so here you go, do enjoy the sheer tarantula goodness of the following…