Methods In Their Madness
December 11, 2008 in Celebrity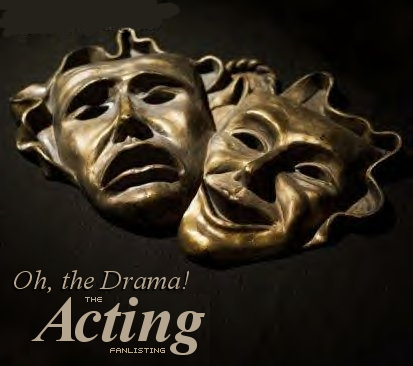 A certain breed of actor – stage or screen – are known for the extremes they go to in searching for the key to characterisation, to get into the heart of the role they are playing. Daniel Hoevels, appearing in Friedrich Schiller's Mary Stuart at Vienna's Burgtheater, slit his own throat with a real knife in the final scene of the play. He didn't mean to.
The audience, unaware of the reality of the fiction in front of them, broke into thunderous applause at the very-special effect. Only when Daniel didn't get up to take a bow, questions started to be asked. And not "where can I get another ticket to see this man slice his own throat in such a realistic manner?".
This brings me to a round-up of the other actors who, in recent memory, have gone a bit too far in getting into character instead of simply just "acting".
Daniel Day Lewis' breakout role in "My Beautiful Laundrette" – Mr Day-Lewis spent three months impersonating a dryer, accepting loose change into his anus while drying small undergarments in his mouth. He also inhaled uncut washing powder using his nostrils, which culminated in him having to go to rehab for a year to kick his Daz habit.
Marlon Brando in "Apocalypse Now" – Brando went all out in his role as Colonel Kurtz by putting on 400 pounds in two weeks by eating oxen whole with only a dash of barbecue sauce. After learning how to dislocate his jaw on-demand, he lay in a jungle clearing, slowly digesting ox after ox like a man-snake. A team of grips were constantly on hand to ensure he also went completely insane.
Russell Crowe in "Gladiator" – against grumpy director Ridley Scott's wishes, Crowe built his own time machine and travelled back to the Roman era in order to "get the accent right". Unfortunately he miscalculated and ended up in Medieval England, which resulted in him coming back to set with not only the wrong pronunciation of the word "father", but also being caked in mud and faeces. A temporal paradox meant that a doppelgänger of Crowe, existing in a parallel universe, crossed over into our universe and became so angry that he threw a telephone at a receptionist in a hotel. This excuse formed the main part of his legal defence at the subsequent trial, and was almost laughed out of court until his legal team brought in his great-great-great-great grand-daughter (who was yet to be born) in as a witness. The case was later dismissed.
Randolph Scott – the actor, best known for his parts in various cowboy movies, went on a killing spree in his native California in the 1940′s, murdering 23 Native Americans and 4 Mexican taxi drivers who had just stopped to watch the rampage. Scott later admitted the killings, but in his defence stated "I just wanted to see if the blood was as red as people had told me, and if they screamed or gurgled while dying in the sand, that kind of thing". The case against him was dropped after his fellow actor, Ronald Reagan, stepped in to defend evil, yet again.
Dudley Moore – actor and comedian Moore became an alcoholic for his role in "Arthur".
Dustin Hoffman – in "Rain Man", Hoffman agreed to undergo a partial lobotomy in order to "capture the truncated thoughts of someone with a brain that wasn't really working that well, but could count shit real easy". The brain tissue was kept in a Petri dish at constant head temperature until principal shooting was complete, wherein it was replaced by director Barry Levinson using an ice-cream scoop and some tissues at a secluded spot in Santa Monica.
Zac Efron - in his continuing roles in "High School Musical", Efron pretended to like girls, and spent hours in his trailer trying to "think nice things about boobs and the vagina and their awful girly-butts". He's since recovered.